Part 1-No better alternative
Its Diwali time and I am once again back inside the comforts of home. I have been thinking of writing on this topic for a long time but as always the case with me I prefer watching a movie or learning a new guitar riff rather than wasting my 'valuable' time in writing 'stuff' about Indian Politics. But the recent Patna blasts and its political aftermaths with verbal cross firing going on from both sides , probably triggered me into writing something fruitful on Narendra Modi.
First of all to my readers (some of them extend as far as Czech Republic) of this blog I am not a journalist, neither am I hotshot Political commentator or something. All I am; is a common youth who has been actively following politics since the days of NDA government.

Well enough of this crap said, lets come to the point.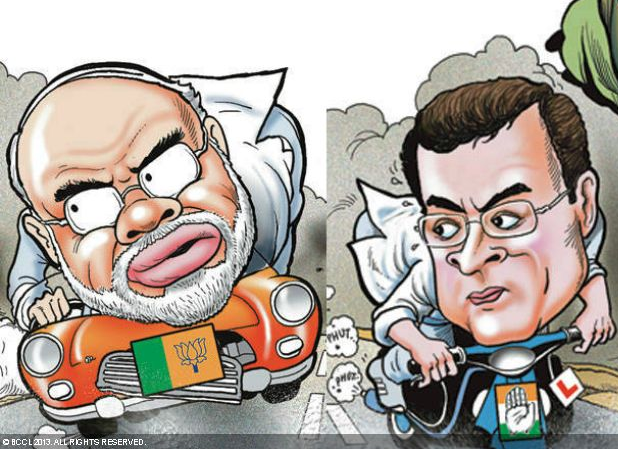 There are many things which can tilt the tide in Modi's favour. But the most important point is lack of a better alternative. To be frank there is only one alternative and i.e Rahul Gandhi. The possibility of a third front forming the government is quite bleak.
It's a battle between UPA and NDA, and I am quite sure there will be many post poll alliances.
So let's have a look at the UPA's Prime Ministerial candidate.

Rahul Gandhi (His Highness 'The Prince').
He has only few years of political experience. And unlike people such as Tharoor,Nilekani, or even his father(a commercial pilot),he doesn't have a realtime expertise at any significant field .But still he boasts of an inborn qualification which enables him directly for the post of PM i.e. his surname GANDHI. There are no rules for him. If People call Modi authoritarian, then Rahul should be no less then a dumb Autocrat.

We should all remember Uttarakhand floods when one of the Gandhi family puppets, our Home minister, Mr Shinde said- "No one but the PM or the CM of Uttarakhand can visit the flood affected areas, since it is hampering the relief work. Even I won't go there. No one will be allowed to land there.'

Strong words indeed, but probably not too strong for the mighty Prince. When the nation was battling one of its biggest natural calamities, he took his time and fully enjoyed the warm summer holidays in the beaches of Spain. After exactly eight days he came back and straight away visited Uttarakhand , hampering a hell lot of relief work. Flouting the orders of the HOME MINISTER of this country !!!
As if, no rules and regulations apply for him. This is just an example of how pampered that fellow is?

http://indiatoday.intoday.in/story/rahul-gandhi-visit-to-uttarakhand-sushilkumar-shinde-home-minister-vips/1/285194.html

Sometimes I feel bad for some of the senior politicians of Congress. Few of them have genuinely served the nation for almost 30-40 years. And look at their condition now, bowing to the wishes of a rookie who's not even well versed with the socio economic situation of our country. I still have huge respect for Manmohan Singh both as an economist and as a yes a politician too. But like all other senior Congressmen, he too doesn't possess the guts to speak against the Prince or his mother.



This takes me back to the events of last week of September this year. Continuing its tradition of opposing righteous laws, UPA brought an ordinance against the Supreme Court's order of banning the convicted MPs.

Few days later our PM was in USA to meet President Obama. But hours before his meeting; see what the prince did back here in Delhi-
He called up a Press Conference and with much fanfare he termed the ordinance complete baseless and demanded that government should take it back.

Now what I don't understand is; Rahul Gandhi is UPA's PM candidate, and each and every important decision is taken after his and his mother's YES.
So why to bring up the ordinance on the first place especially when you are so hell bent on going against it later on?

And once everyone including Rahul and his party has decided in favour of it, Why to call it nonsense in front of all those media men and embarrass our Prime Minister, who at that time was in a foreign land? The reason is simple – He wanted to gain some publicity and show that he has an 'iron fist' too. But probably he underestimated Indian public .We all know your real motive Mr Gandhi and how you and your mother made this master plan ,with all the cabinet ministers including PM ,playing actors in it.

But the story didn't end here. Few days later all the big UPA stalwarts had to bow to the Prince and finally the ordinance which was passed by the government under Manmohan Singh, had to be taken back!!!

http://articles.timesofindia.indiatimes.com/2013-09-28/india/42480591_1_rahul-gandhi-pm-manmohan-singh-ordinance
http://news.oneindia.in/india/pm-a-puppet-between-rahul-outburst-and-sonia-assurances-1314658.html

Moving on, people say that Rahul has an aura in him. He can connect to the youth and blah blah blah, but here are some more facts-
Modi on the other hand has continuously won the Gujarat election with complete majority since last three terms. Factors like Anti Incumbency don't weigh when Modi is in power. On the contrary he has made his hold in Gujarat stronger.
2-
Rahul has been MP twice. But in his 9 years service as MP he has 30% attendance in Lok Sabha and till now has asked only three questions. There were a total of 89,055 questions asked by all MPs combined. Rahul Gandhi's share was a mind boggling 0.003%.

3-Secularism, once Rahul Gandhi commented to US ambassador ( WikiLeaks) that Hindu extremists like RSS is worse than lashkar E Toiba? Is this secularism? Comparing the 26/11 terror group and the lead Kashmiri terrorists responsible for thousands of death , to the RSS..!!!! I guess the prince went too far this time.

4-Lust for Power: He did nothing, for the nation but still craves to be the PM, he has been made the VP of Congress to satisfy his lust without any experience. Don't you think there are leaders like Chidambaram, Jairam Ramesh and hundred others in Congress who are eligible for that position? Is this democracy within the party?

5-Milestones: People credits Rahul with RTI, NREGA, NRHM, as his achievements. But often do I wonder what is the relation between all this and Rahul? Hope someone can enlighten me about that because from what I have read Initially Rahul Gandhi was staunchly opposing the RTI bill.UPA passed it under the pressure of Kejriwal , Anna hazare and the opposition. Now too, he is against the RTI for political parties.

Now to end this we all should acknowledge this fact that Modi has been the CM of Gujarat for more than a decade and has the experience of serving at that level, Rahul on other hand has not taken any position which demands a responsibility of over 6 crore people. Modi has caught on nerve of India of Today. Indians today don't want to fight over petty politics which is status quo based on caste, region & religion. Indians of today want Progress, better quality of life, better infrastructure & transportation.
Most importantly we all should acknowledge that we are limited by choice with only Congress and the Third front as alternatives. Who in the country would lead the Congress- a reluctant dynastic or an ageing economist (although he's out of equation now) who has discovered his true skills lie in politics, or a backroom puppeteer? Or, God forbid, all three?
So After all these years of Corruption and dynastic politics Congress needs to be stopped and as for now Modi seems the best answer to that. As for third front, no rational mind would vote for Lallu, Mamata or Mayawati. Modi is a pro-development person who has proved his abilities in Gujarat and taking into account the development track record, he is the best among the available choices.

And last but not the least you certainly won't like the PM of India to ask permission of his mother before making laws.



More interested people can always check this by Nitin Gupta (Rivaldo)
http://shilps882.blogspot.in/2011/05/curious-case-of-rahul-gandhi-nitin.html

(Next: Part 2-How UPA ruined Indian economy...)